This shop has been compensated by CollectiveBias, Inc. on behalf of its advertiser, Target. As always, all opinions are mine alone.#RegisteringForBaby #CollectiveBias
Now that I'm 34 weeks pregnant, it's finally hitting me that pretty soon there's going to be a tiny human living in my house that I need to take care of. Panic mode is starting right about…NOW! I honestly feel like I just found out we were pregnant, and I can't believe our baby girl will be here in just a few more weeks.
Since this is our first baby, the past few months have been super hectic and filled with tons of learning, but it's all been extremely worth it because we're finally ready for her to get here.
So how exactly do you prepare for your baby's arrival? Well, based on my experience, here are a few things you ought to do during your pregnancy to help prepare you for the new tiny human in your life!
1. Create A Baby Registry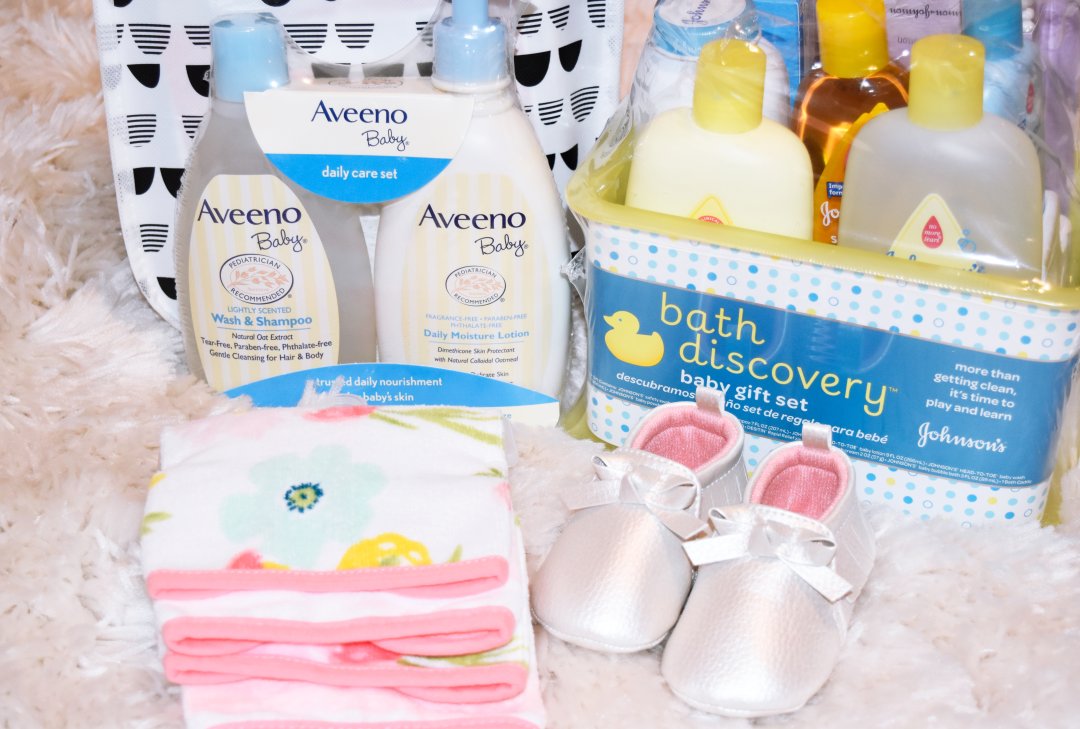 [Shop the image above by hovering over the photo!]
Babies need a lot of stuff, so one of the best things you can do to prepare for your baby's arrival is to create a baby registry full of all the essentials you'll need to purchase at some point or another. It can definitely be a little overwhelming – especially if it's your first child, but putting together a baby registry can help you figure out what you REALLY need and it's also a great way for your friends and family pitch in a little and help you purchase some of those items.
To help us stock up on all our baby needs, Joe and I created a Target baby registry and little by little we started adding all of the items we knew we wanted. BTW, it's super easy to start one – you can do it online or you can download the Target registry app on your phone.
I've honestly had the best experience with my Target registry, and one of the best things about it has been the welcome kit. Once you create your registry, all you have to do is stop by the Guest Services department in the store and you'll get a really nice welcome kit with over $50 of coupons and handpicked samples. Mine came with a full-sized bottle, some diaper samples, two different pacifiers, nursing pads, travel sized baby washes and lotions, and a whole bunch of coupons! Not too shabby.
I also love the fact that when you register, you get a 15% discount emailed to you about 2 months before the baby's arrival that you can use to help you buy anything that's left on your registry. So yea, add all the stuff you even THINK you'll need and you can later save 15% on those items.
Don't know where to start? Here are a couple ideas…
The Aveeno® Baby Daily Moisture Regimen Pack is something you'll use all the time, and Johnson's® Bath Discovery Set makes for a great gift since it comes with a whole bunch of baby essentials.
I'm ridiculously blessed with amazing friends and family who've been sending baby gifts to our home. With so much going on these days though, I need a little help staying organized which is why I love Target's gift tracking system. It makes it easy to match gifts with the person who sent it so I know who to thank for everything later. Such a lifesaver.
Oh and if for some reason you no longer need something you put on your list or if you get duplicate items, Target makes the whole return process very simple, letting you make returns and exchanges for up to a year after your baby's arrival date.That's certainly a good thing too, since it'll probably be a few months before I leave my house once the baby gets here.

So definitely consider creating your own Target Baby Registry and start stocking up on all those baby essentials you need way before your due date.
2. Stay Healthy
With all those pregnancy cravings, it's easy to just eat whatever you want and ignore your overall health. But obviously, this is a time when you ought to try to be as healthy as possible, so make sure you're seeing your doctor for regular visits, try to eat somewhat healthy, and incorporate a little bit of exercise into your routine.
3. Make A Budget
Babies are super expensive, so the earlier you can establish some kind of household budget, the better. When Joe and I found out we were pregnant, that's one of the first things we did, and it's helped keep us on track ever since. Given that I'll be taking maternity leave and won't be getting paid for 3 months, we've been able to save up some money to help us through that time. Had we maintained our regular pre-pregnancy spending habits, we would have been in big trouble.
4. Educate Yourself
There's so much to learn about having a baby and the whole birthing process in general, so the best thing you can do is to try to educate yourself. Read books, talk to experienced mommas, and/or enroll in some childbirth education classes. I've already taken a general childbirth class and next month I'll be taking two more – one on breastfeeding and the other on infant CPR. I finally feel like I'm not totally clueless about what I'm about to go through and that's definitely helped calm my nerves.
5. Find A Pediatrician
As much as I hate doctors, your baby's going to need to see one, a lot. So don't wait until the last minute to search for a pediatrician. Do some research, ask people you know for recommendations, and find a doctor that you like and respect. You'll likely be calling their office every once in a while with questions, so you'll want to make sure that the staff is friendly, accommodating, and that they know what they're doing.
6. Create a Birth Plan
I hadn't thought about creating a birth plan until I attended that childbirth class I mentioned earlier, but turns out, it's kind of a big deal. You ought to think about who you want in the room with you, what kind of medicine you want to receive, and even things like what kind of music you want to listen to during the birthing process to help relax you during labor.
7. Work on Baby's Nursery

I've had so much fun preparing our baby's nursery, and I'm super glad we didn't leave all the decorating to the last minute. Now that her nursery is pretty much good to go, I'm a lot more relaxed knowing that if we brought her home a little early, we'd have all the essentials we need and her room would be move-in ready.
8. Pack Your Hospital Bag
You may end up rushing to the hospital a little earlier than expected, so make sure your hospital bag is packed and ready to go at least a month before your due date. You'll want to pack all the comfy things you'll need for yourself, plus the things you'll need for your baby. There are tons of checklists you can download online so print one out and start working on that ASAP.
9. Setup A Hospital Tour
I didn't know that some hospitals offer a tour of their labor suites for soon-to-be-mommas, but if you have the opportunity to do one, you might as well take advantage of that. It's a good idea to figure out where you'll park, and where you need to report to when the big day comes so you're not in total panic mode while you're in labor.
10. Wash Your Baby's Clothes + Bedding
I've gone a little crazy buying our baby girl the cutest clothes, but before she can wear any of it, I still need to wash it. Same with her crib bedding. It's easy to get excited about hanging up their little outfits and setting up the nursery to see what everything looks like, but before you bring your baby home, make sure you wash it all!
And that's about it! Well, not EVERYTHING, I'm sure there's tons more you can do to prep for you new little one, but those are a few of the basics to get you started! Anything else you highly recommend doing to prepare for your baby's arrival? This first time momma over here can use all the help she can get!
Find all your baby-prepping needs at Target 🙂